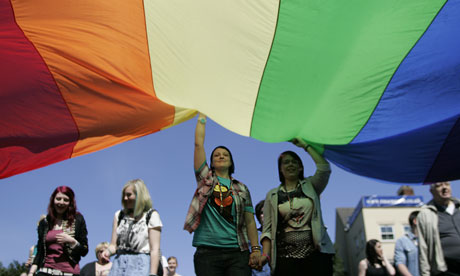 Newcastle Pride, Newcastle upon Tyne
The north-east's first LGBT pride event continues to grow, combining politics and partying with a midday parade followed by park-based festivities. This year's parade is themed around the colours of the rainbow flag, although it could equally be a tribute to the spectrum-spanning hairstyles of Toyah, who appears on the park event's main stage alongside X Factor finalist Amelia Lily and Steps imitators Steptastic. The cabaret tent, funfair and women's tent return, while a dance tent, alternative stage and a family zone are new additions.
Various venues, Sat
Abi Bliss
Friday Late: Peckham Takeover, London
Mainstream culture may only know Peckham from its associations with Only Fools And Horses or Desmond's. However, what was once seen as a south London backwater with comedic potential has started to take itself more seriously of late, especially since the artists moved in. Offering an across-the-river contrast to Dalston, the area follows its East End cousin with an artistic takeover of the V&A and its gardens for this Friday night invasion of the fancier parts of town. Expect art happenings, asymmetrical hair and a whole load of fixed-wheel racers parked up outside. DJs, talks and music offer a lively backdrop for seeing the up-and-coming before they make it.
V&A, SW7, Fri
IA
World Snail Racing Championship, nr King's Lynn
Snail's-pace racing can be surprisingly white-knuckle. Just ask Tom Elwes. The founder of the world snail racing championships, which he launched back in 1965, Elwes has proved that the idea has real, ahem, legs. Competitors now come from across the globe to enter their own home-trained champions-in-the-making. Each snail is daubed with an individual marking and raced from the centre to the perimeter of a 13-inch track. Archie is currently the world record holder, with a lightning-quick time of two minutes and 20 seconds. You'd better bring your A-game.
Congham cricket field, Sat
CC
Out & about
SummerTyne Americana festival, Gateshead, Sat & Sun
Checked shirts, whiskey and tales of heartbreak from the likes of Willy Mason and Martha Wainwright.
Sage
IWA national festival 2013, Watford, Sat & Sun
Up to 30,000 people congregate at the Grand Union Canal to celebrate British waterways.
Cassiobury Park
2013 Community Dig, North Duffield, Sat to Fri
Time Team-style chance to join in with (or watch) the excavation of an iron age hut-circle.
Parkhouse Farm
Tram Sunday, Fleetwood, Sun
Vintage vehicle bants with around 200 four-wheeled classics taking over the streets of Fleetwood.
Various venues
Evening Showboat, Glasgow, Fri
Get those sea legs ready to ride on the PS Waverley AKA the last sea-going paddle steamer in the world.
Pacific Quay
YOUR COMMENT